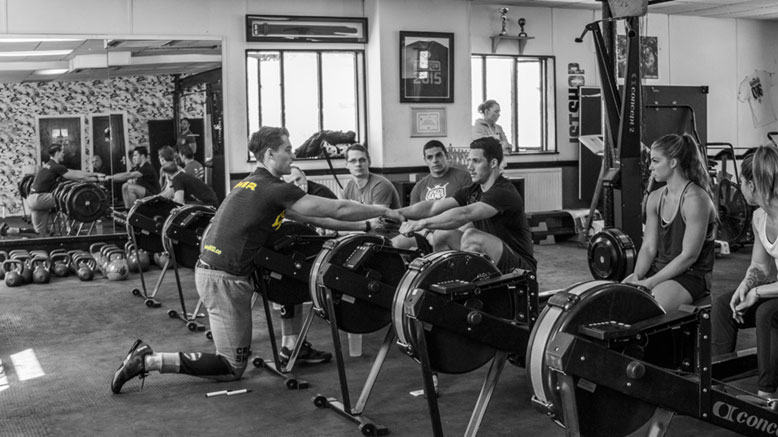 RowingWOD™ Classes
Rowing machines at your gym?
Want to get them used more?
Looking for new class ideas?
Then run our RowingWOD™ Classes at your gym, club or facility.
There's no better way than to row as part of a crew. Our classes get your members and athletes better at rowing and faster on the machine. They're fun, varied, challenging and build a great sense of camaraderie.
Every session is tried and tested on our athletes in the UK and we've tweaked things so everything runs smoothly.
The classes are always varied and either have just rowing or rowing combined with simple movements to give your athletes a dynamic, full-body workout.
Class requirements:
How the classes work:
One you've subscribed, each session is very detailed and is separated into 3 sections for you.
Section 1 – 'The Whiteboard'
As a fully subscribed facility, we allow you to use the term RowingWOD™ Classes, which you can write on your gyms whiteboard. We offer how our coaches would write the class session on the whiteboard. Copy our whiteboard, use bits of it or create your own. The most important thing is your athletes and members know what they're about to do.
Section 2 – Detailed overview
We give you a comprehensive and detailed explanation of every session. The notes here discuss how to choreograph a warm-up, how to set up the room and how the workouts should flow. There's also suggestions of how to run the class if you have more than one athlete per machine. Most workouts are written with an athlete to rowing machine ratio of 2:1 (2 athletes, 1 machine). These workouts can be scaled to a 3:1 or 1:1 ratio, as described in our workout overview material.
Section 3 – 'Coach to coach notes'
These are some quick reminders for the coach taking the class. Simple cues and focuses help them to keep the class on point and ensure they have easy to access material in case they want to quickly look up something just before class starts.
TAKE A LOOK AT A SAMPLE CLASS BELOW:
Warm Up
A) 3 Rounds:
10 Hamstring Rock Overs for quality while Partner Bear Crawls & completes 5 burpees as a buy-out from bear crawls
B) 2 rounds:
20 Strokes for Drag Factor Set Up*
*Partner holds bottom of squat while partner is setting machine
Today's RowingWOD™:
"You go, I go"
1000m, 750m, 500m, 250m
All to be done at low rate <24
Rest 5mins
For time – 1000m @ low rate (<24spm)
Cool Down / After-Party
20 Full-length strokes focussing technique
Then 15 strokes each
Then 10 strokes each
| Scores | Name | Time | Average Split | Rate |
| --- | --- | --- | --- | --- |
| |  Rich | 03:16 | 1:38/500m | 23 |
| |  Annie | 03:46 | 1:52/500m | 22 |
| |  Dave | 04:04 | 2:02/500m | 24 |
Goals of the session:
1. Better technique – Establish rockover position
The technical focus for this session is creating a solid 'rock-over', getting the athletes to hinge at their hips to bring the shoulders in front of the hips. This generates length to the rowing stroke and organises the body nicely to take another stroke. This will become very important when rowing at low rates in future sessions. This session is mainly a 'you go, I go' format so partner athletes with similar abilities, heights and gender where possible.
2. Get a good workout
The main metabolic stimulus for the session is the last 1000m at low rate. The whole session is designed for the athletes to move well and work on technique before doing some low-rate intervals. These intervals should still be solid in work and even though not for time, pairs can work hard against and with each other to row strong.
Make sure to have all the athletes write their scores on thw whiteboard for the last 1000m row. Record their average split (pace/500m), rate and time for reference. This should be at a maximum technical effort at 24 strokes per minute or less.
Flow of session:
Whiteboard + Warm Up:
Total warm up time – 15min
Whiteboard talk should focus on the technical element of the rock-over, getting the athlete to understand how to do this & why it is important to do so. Pair athletes up from start so warm up drills are done in the same pairs as main piece. Warm Up is split in 2 pieces:
Part A) Pulse raise & technique
Keep the coaching attention on the athletes learning their rock over position as this is one of the primary goals. Ensure the bear crawlers and burpee-ers are moving well but also getting a sweat on and firing their hamstrings.
Pat B) Machine setup
Ensure your athletes have set their drag factor (resistance). Press 'More Options' -> Display Drag Factor' and then row. No matter hard hard they rowor how high they rate, the drag factor will largely be the same. Aim for a range of 125-130 for female athletes and 130-135 for male athletes as a starting point for this session. To raise the number, push the lever up to an increasing number. This increases resistance. The converse is true and obeys the same relationship. The 20 strokes the athlete takes should be firm and long even though they're just setting the drag factor. When done correctly, the entire warm-up should take no more than 15mins.
Main Piece
Total time for workout(s) – 35mins
Gather Class and re-brief workout details – focus is still the rock over and keeping the rate low so anything rate 24 and under. Split/speed is not important at this point just row long, powerfully and see where the split sits. Machine Set up as advised below (little tip – once the machine is set up keep pressing top right-hand grey button until ready to stop machine resetting). When first wave are ready to row, encourage the second wave of athletes to stay warm and stay loose with air squats and lunges. They'll only need to do this while their partners do the first 1k, then they'll be resting.  Ensure athletes are ready to switch with their partner at least 100m before partner finishes. They'll have 20secs transition period but this will go quickly so they need to be swicthed on.
Machine Set Up 
Select Workout – Intervals Variable – 1) 1000m rest 0:20 select ok 2) 1000m rest 0:20 select ok 3) 750m rest 0:20 select ok 4) 750m rest 0:20 select ok 5) 500m rest 0:20 select ok 6) 500m rest 0:20 select ok 7) 250m rest 0:20 select ok 8) 250m rest 0:20 select no more intervals
Scores
Record the last 1000m time, split and rate for future use.
Quick Guide for Coaches:
Total time – 55mins (15min warmup, 30min workout, 10min cooldown
Always allow time at the end to cool down correctly, reflect on the session and acnhor the learning points.

Workout Focuses:

Find your athletes fastest time for rowing 1000m at a low rate.
Introduce using hips to get length, and therefore speed, in the stroke.
Build the intensity through the session, the workout is more than a 1k score.
Keep the athletes engaged by focussing on technique and keeping rate low.
Reminder – machine set-up:
'Select Workout' -> 'New Workout' -> "Intervals Variable" –
1000m, rest 0:20, select ok
1000m, rest 0:20, select ok
750m rest, 0:20, select ok
750m rest, 0:20, select ok
500m rest, 0:20, select ok
500m rest, 0:20, select ok
250m rest, 0:20, select ok
250m rest, 0:20, select no more intervals
*Please note there is a 20second rest interval between each interval to allow partners to switch between without losing time.
Cool Down Focus

Your chance to reflect back to your athletes on what they've learnt. Get the first wave of partners to complete a set of 20 quality strokes, engraining good movement whilst they're tired. Then switch partners and they do the set of 20. Repeat for a set of 15 and 10.
This is an opportunity to congratulate & celebrate success not just overall time but who was most consistent with stroke rate who held position across the whole session. Remind class to go into the memory on the monitor to record the scores for the day. They can take a photo and share to your members or gym social media groups.
I'm in! How do I get access?
Subscription to the RowingWOD™ Classes is offered to gyms that want to commit to running them for at least three months and subscription is priced at £99 per month.
This is a two way thing.
A three-month period is long enough for us to start a relationship with you and your facility as we guide you through the first few classes and ensure you get the most value from them.
We also take our reputation seriously and want to ensure the RowingWOD name is spread via like-minded facilities and individuals.
Our coaches will work with you and your team to ensure the classes are delivered optimally to your members and athletes. You'll have access to all the detailed material for each session and have regular email support through the initial phase of getting set up.
Each week you will receive an email with two unique RowingWOD classes, together with all the detailed notes set out in the three sections described above. You can run these as often or infrequently as your class schedule allows, it's completely up to you.
All we ask is that you credit the RowingWOD™ name as you're now part of the family!
Questions?
If you have any questions about anything to do with the RowingWOD classes or want someone to explain anything further, just drop us a message at classes@rowingwod.co.